Remarkably Mark #167: Quick Bites Hawaii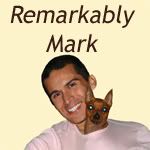 Remarkably Mark #167: Quick Bites Hawaii
I was in Hawaii last week for the "
So Much More Hawaii
", tour, sponsired by the Hawaii Tourism folks and Cilantro Media. These a few quick videos shot on my handheld camera. This first video is from our arrival and the reception held at the Sheraton Waikiki's Rum Fire outdoor terrace. See
THIS POST
by my new friend Melissa Chang, host of the Urban Mix Plate blog, for photos and description of the reception. Melissa is one of the local Hawaii bloggers who showed me the local food scene and introduced me to many of her chef friends. I include a short musical clip from MAKANA, a specialist in the unique Hawaiian "Slack Key" guitar style, who performed for us. There's also a short bit from our first morning in Kauai, where I visit the herb garden of the Grand Hyatt Kauai.
These are reposts from my "Quick Bites" series on Culinary Media Network, but they're fun and I thought I'd include them here. Just wait'll you see the ZIP LINE video!
Labels: Hawaii, Kauai, Makana, So Much More Hawaii