First Freedom First
I wanted to share with you this email I received: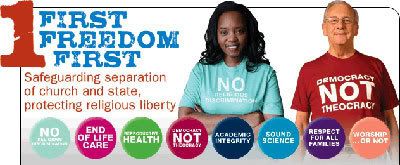 Dear Friend of First Freedom First,

When we learned this week of a newly unveiled Department of Justice (DOJ) initiative titled the "First Freedom Project," our interest peaked. After comparing it to our own effort, First Freedom First we were deeply disappointed.

First Freedom First would welcome an initiative by Bush administration officials to truly preserve and protect religious freedom in America, but their track record shows that they only believe in half of the First Amendment's two religious freedom clauses. The DOJ's First Freedom Project is a scam.

How timely and hypocritical. Next week in Hein v. Freedom From Religion Foundation, administration lawyers will argue before the Supreme Court that taxpayers should be denied the legal right to challenge government spending that favors religion.

So this week, they unveil a program that claims to protect our religious liberties. No administration in our history has trampled the First Amendment more than the Bush administration.

Deceptively naming this program First Freedom is a typical strategy of the Bush administration. The title hides its true purpose, just like the USA PATRIOT Act, the Healthy Forest Restoration Act and No Child Left Behind.

In the most religiously diverse nation in the world, religious freedom is for everybody. It's not the freedom of our government to impose or even favor one religion over others. We invite everyone who cares about religious freedom to compare the attorney general's First Freedom Project with First Freedom First.

Our petition has already been signed by over 100,000 people and will be presented to political leaders throughout the nation to encourage their renewed commitment to the First Amendment.

To help safeguard separation of church and state and protect religious liberty, please forward the petition to at least one friend.

Thanks again for your support!

All the Best,

Beth Corbin and Bethany Moore of

Americans United for Separation of Church and State


Donna Red Wing and Eric Shutt of

The Interfaith Alliance Foundation
"What makes us special and different from other countries is that our right to decide whether and how to worship is a private matter protected by the Constitution."
—
www.firstfreedomfirst.org
Remarkably Mark
,
podcast
,
chef
,
qpodder
,
First Freedom First
,
church and state
,
religious freedom
,
ReMARKable Palate
Labels: church and state