Remarkably Mark #50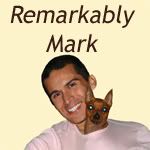 Remarkably Mark #50: Church and State
Tristin
from the
InTristin Podcast
joins me as we discuss the Kearny NJ Teacher who is in trouble for teaching religion in his history class, a case going before the Supreme Court about separation of Church and State, and of course a little TV talk.
Lippard Blog
Freedom From Religion Foundation
Theme Music: "Viva Remarkably Mark!" by John Ong.
www.onglinepodcast.com
Voice Mail line: 1-646-797-3196
skype:
remarkablepalate
remarkablepalate@gmail.com
remarkablymark.podshow.com
Remarkably Mark
,
podcast
,
chef
,
qpodder
,
queercaster
,
church and state
,
Establishment Clause
,
Chef Mark