Chef Mark mentioned in the Wall Street Journal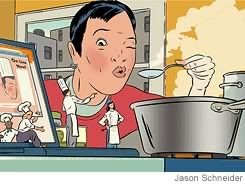 Soggy Stuffing, Dry Turkey?
Now You Can IM a Chef
By YULIYA CHERNOVA
November 22, 2006; Page D1
For cooks planning a Thanksgiving meal, it's crunch time.

When things go wrong, the idea of taking questions to a professional chef has long seemed about as realistic as pushing through the swinging doors at a restaurant and heading into the kitchen.

But that's changing quickly. A growing number of chefs are communicating with home cooks via phone, email and instant-messaging services. Web-based services like ChefsLine.com and chefs.com, both launched in the past year, let anyone contact a chef for help with a cooking crisis or a routine query -- investigating why that flourless chocolate cake never cooked through, for instance, or explaining how to truss or tuck the legs of a turkey after seasoning the inside.......


Because people are accustomed to being intimidated by chefs, they often are surprised to find them so accessible. Mark Tafoya, a personal chef who runs an online food magazine, creates cooking podcasts, and has answered a few calls from Chefs Line customers, leaves contact info via email, his Skype phone number and his voicemail on his blog at remarkablepalate.blogspot.com. One day, a man called Mr. Tafoya and hung up, only to call back and say that he was so shocked that Mr. Tafoya actually answered the phone that he couldn't figure out what to say.
You can read the whole article
HERE
.
food
,
food podcast
,
cooking
,
recipe
,
food
,
ReMARKable Palate
,
Culinary Podcast Network
,
Gilded Fork